Can you imagine what it would be like if your laptop was made of steel? How heavy would it be to carry around. No, such electronic devices are made of aluminium. Aluminium is a strong, light weighted material with a high corrosion resistance. That is why it is so often used for architectural or transportation purposes, such as the aerospace industry. Now let us start with some of the important factors of finishing aluminium.
The right machine tool for finishing
For finishing sheet metal in the broadest sense of the word, Timesavers has it all. From small to large machines; there is a suited solution for parts, sheets or even coils. A deburring machine from the RB range can add a finish to a product, but is mostly intended for deburring, edge rounding and removing an oxide layer. If you are looking for a machine that is solely focused on finishing, then you end up at a special range of machines.
The 22 series, 31 series, 62 series, 71 series and 72 series are ultimately for finishing. When you consider one of these machines, keep in mind the size of your product range. The working width of the machine needs to match at least the maximum width of your parts/sheets.
The thickness of a product matters too. Thin sheets of aluminium are harder to finish, since it gets heated quite easily. Especially on a rotary brush deburring machine. Obviously, the large finishing machines can handle the finishing of aluminium sheets way more easily.
Follow-up application
In some cases there is an application that follows after the aluminium sheet is finished. It is then important to take surface treatments into account, such as powder coating or anodising. Powder coating succeeds best on rough surfaces, because it absorbs more paint. For anodic coating, it is crucial to clean the surface and make it smooth to avoid ugly spots on the anodised finish.
Surface roughness
The value for measuring surface roughness is Ra, Rz or Rt. It determines how smooth the surface is of – in this case – aluminium. The value is always measured from a sample length. This means the value can differ depending on where on the product you place the measuring device. If you are interested in the details of surface roughness, make sure to check out our knowledge base.
All you need to know about surface roughness (Ra)
All you need to know about surface roughness (Ra)
When working in metal finishing industries, you have most certainly heard about surface roughness. It measures the irregularities on the surface. Now what measurements are there? And why is it important?
Go to knowledge base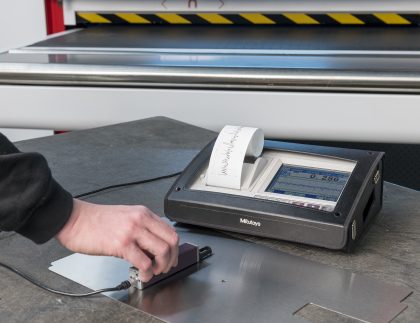 Choice of tooling
Tooling. A deciding factor. Because the final results on an aluminium surface are influenced by the wide grinding belts. These are available in fine and coarse grits. The finer the abrasive grit, the smoother the surface.
Prior to anodising, it is crucial to consider the required grinding result. This determines the right abrasive mineral for grinding aluminium. And it determines the grit. Let Timesavers help you achieve one of the aluminium sheet metal finishes you need.
Aluminium finish
Finishing aluminium parts or sheet is one of the last steps in the manufacturing process. Timesavers offers several finishing machines that are ultimately for creating the desired surface finish. Will you opt for a wet working or dry working machine? Check out our article below for the comparison
Wet vs. Dry finishing machine
Wet vs. Dry finishing machine
What type of finishing machine do you prefer for your production process? Compare the wet working process to the dry working process.
Go to knowledge base