Machines from Timesavers can be built to produce a variety of sheet metal finishes. Metal finishing is the last step in the manufacturing, that adds to the protection and aesthetics of the products. The most common finishes are decorative finishes as for instance a straight-line or a grain finish. These can be accomplished in finishing processes that use abrasive belts, Scotch-Brite belts and/or brushes. More information could be read in the knowledge base page about finishing.
Your problem, our solution
Non-directional finishing with the rotary brush machines
Finishing with abrasive belt and Scotch-Brite belt
Hairline, Duplo, Microlon finish
No. 3 or no. 4 finishing with abrasive belts from grit 120, 180 to even 240 and 320
The perfect finish with a Timesavers
Timesavers offers machines for every required finish. From the Manual Grinder, to the rotary brush machines, to the 81 series; all Timesavers machines have their unique finish capabilities. The finishes can be applied to a variety of materials depending on the machine.
Play
Finishing of sheet metal products
There are several finishing techniques to get the perfect sheet metal surface finish that meets your surface roughness requirements. There is a wide range of finishes for stainless steels, such as the common 2d finish or a 2BA (Bright Annealed) finish that is made by brushes, or a No. 5 with a Scotch-Brite belt. The deburring machines can be equipped with a Scotch-Brite belt, to add a finish to the deburred products. When a non-directional finish is preferred, the rotary brushes are recommended.
Finishing of sheets
Every machine from Timesavers is able to produce a nice surface finish on sheet metal products, however, Timesavers has also designed three machines that are the ultimate solution for finishing sheet-to-sheet or coil-to-coil material.
62 series
62 series
This machine is the ideal solution for finishing of sheets that are produced by a cold rolling process. It ensures the best result for a stainless steel surface.
Click here to view the machine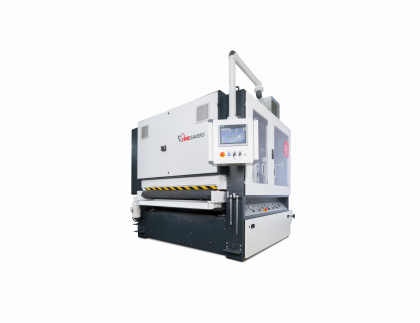 71 series
71 series
A smooth surface can be achieved with this wet 'coil-to-coil' line. Both, cold and hot rolled sheets can be finished by this machine. Because of the wet process, it can even handle titanium, molybdenum and zirconium.
Click here to view the machine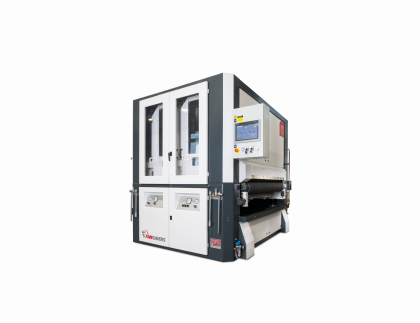 72 series
72 series
This dry working machine produces a smooth finish on cold and hot rolled sheets. Depending on the type of brush and belt in combination with the right settings, no. 3 or 4 finish can be achieved.
Click here to view the machine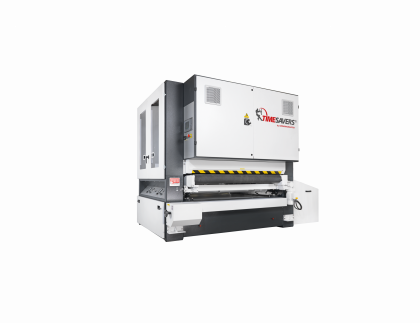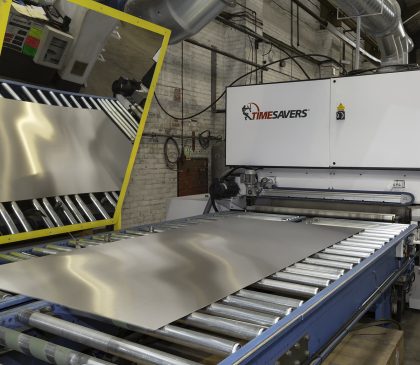 Hairline adds to Rimex's portfolio
As one of the world's leading specialists in the production of metal sheet finishes, particularly stainless steel finishes, Enfield, Middlesex-based Rimex has constantly re-invented itself over its 60 year history. In doing so it has maintained a high profile across global markets for its range of polished, embossed and coloured stainless steel sheet products, ready for sheet metal fabrications. Rimex is capable of producing almost any finish, like hairline and even the highly reflective ones.
Read the full story of Rimex
What is the right solution for you?
By answering 5 simple questions, we lead you to the right machine for your application.