Non-directional finishing with the rotary brush machines
Finishing with abrasive belt and Scotch-Brite belt
Hairline, Duplo, Microlon finish
No. 3 or no. 4 finishing with abrasive belts from grit 120, 180 to even 240 and 320.
The perfect finish with a Timesavers
Timesavers offers machines for every required finish. From the Manual Grinder, the rotary brush machines, till the 81 series, all Timesavers machines do have their unique finish capabilities.
Play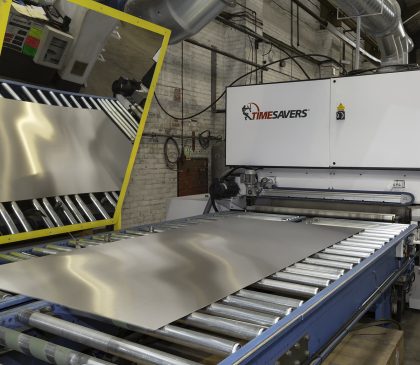 Hairline adds to Rimex's portfolio
As one of the world's leading specialists in the production of metal sheet finishes, particularly stainless steel, Enfield, Middlesex-based Rimex has constantly re-invented itself over its 60 year history. In doing so it has maintained a high profile across global markets for its range of polished, embossed and coloured stainless steel sheet products.
Read the full story of Rimex
What is the right solution for you?
By answering 5 simple questions, we lead you to the right machine for your application.