A radius is created on the edge of the metal during edge rounding of metal products. This ensures that the sharpness of the edge is removed and it is given a uniform rounding. Timesavers offers perfection in edge rounding with a radius of up to two mm in a single pass. More information about edge rounding could be read in the knowledge base page about edge rounding machines.
Your problem, our solution
The perfect uniform edge rounding
Various developments inside the sheet metal industry and influences from outside the industry, make product edge rounding / radiussing increasingly important.
Edge radiusing up to 2 mm
Meet coating or painting requirements, food safety requirements and improve the health and safety production environment
Laser oxide removal and creating a radius in one pass
It's now possible to remove the laser oxide skin from laser cut steel in combining with uniform edge rounding in one pass. Read more information about removing laser oxide.
Why is edge rounding important?
Risk of injury during assembly and use of the product
Coating quality
Protection of machines that process the product
Food safety requirements (related to bacteria)
Cost-cutting (automation of manual processes)
Perfect edge rounding up to a radius of 2 mm
Play
Timesavers edge finishing machines
We have developed machines that produce perfect edges in a much faster and more consistent way compared to the process of manually deburring edge. Timesavers has a wide range of deburring and edge rounding machines that can be categorized by the following sheet metal edge finishing operations:
Machines for edge breaking
The machines that only break edges of the sheet metal are using discs and/or rollers. In addition to edge rounding, it is possible to deburr and finish the product as well.
Machines for edge rounding
The rotary brushes (RB) are the best solution for edge rounding. These brushes are also used for surface finishing, considering it leaves the product with a non-directional finish. When zinc-coated parts are run through the machine, the brushes can be set in such a way that the surface remains unharmed.
Machine for edge rounding up to a radius of 2 mm
The 42 RB series is the only machine that can round the edges of sheet metal up to a radius of 2 mm, because it is equipped with 8 brushes.
What is the right solution for you?
By answering 5 simple questions, we lead you to the right machine for your application.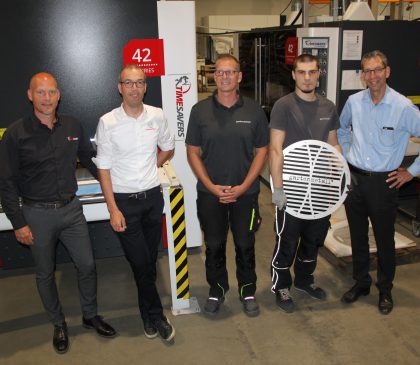 Haptic finish in garden metal
For the production of garden objects and street furniture made of various steel sheets, Thumm Technologies GmbH uses, among others, multi-rotary brushing machines from the Dutch manufacturer Timesavers.
Read the full story of Thumm Technologies GmbH
FAQ about edge rounding
Why round the edges of metal?

First, for safety. Metal is very sharp and it could cause injuries to employees during handling and assembly when the edges and corners are not rounded. Another reason is the quality of painting. Paint adheres much better to a rounded edge and prevents the coating from peeling off.
Why do you need an edge rounding machine?

Manually rounding the edges of metal is a time-consuming work and requires skill in order to get consistent quality. However, an edge rounding machine is able to process multiple parts at once with consistent edge rounding quality at much higher speed.
How to round the edges of metal parts?

You can round the edges manually by using abrasive grinding paper, but for better results it is recommended to round edges mechanically. Abrasive rotary brushes are an excellent solution to create a consistent radius on your parts. Discs are used if only a slight edge break is needed.
How to create a 2 mm radius?

The more often the abrasive brushes come across the metal part, the bigger the radius. The speed of the transport belt and rotary brushes needs to be set correctly to achieve a 2 mm radius.
How do you get a uniform radius?

A rotary brush can grind the edges of any metal part to a uniform radius. The brush flaps with abrasive material are flexible and only hit all the edges when it rotates, while leaving the surface unharmed.
How do you measure a radius?

The best tool to measure a radius is a laser scanner. It comes with a program that shows the exact radius and can provide a drawing of the rounding.