Your problem, our solution
The perfect uniform edge rounding
Various developments inside the sheet metal industry and influences from outside the industry, make product edge rounding / radiussing increasingly important.
Radiussing up to 2 mm
Such as, for example coating or painting requirements, food safety requirements and in the health and safety production environment
Laser oxide removal and creating a radius in one pass
It's now possible to remove the laser oxide skin from laser-cut steel in combining with uniform edge rounding in one pass
Why is edge rounding important?
Risk of injury during assembly and use of the product
Coating quality
Protection of machines that process the product
Food safety requirements (related to bacteria)
Cost-cutting (automation of manual processes)
Perfect edge rounding up to a radius of 2 mm
Play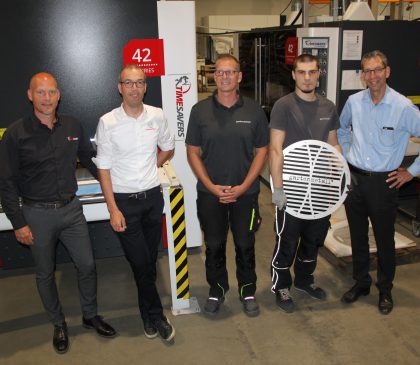 Haptic finish in garden metal
For the production of garden objects and street furniture made of various steel sheets, Thumm Technologies GmbH uses, among others, multi-rotary brushing machines from the Dutch manufacturer TIMESAVERS
Read the full story of Thumm Technologies GmbH
What is the right solution for you?
By answering 5 simple questions, we lead you to the right machine for your application.