Interview with Timesavers CEO Micah Coleman for The Fabricator
Maintaining a fully staffed shop floor is getting more difficult for metal fabricators, with hiring difficulties and trying to balance time-off requests with a limited staff, and that means they are looking to take the next step in automation.
Just look at the deburring of laser- and plasma-cut parts. Only five years ago, a fab shop with a collection of workers manually grinding these parts as they came off the cutting table was a familiar sight. Per customer request, the parts had to have clean edges to meet quality specs and prevent cuts by those who had to handle the material in downstream processes.
That led metal fabricating companies to add flat-part finishing machines, typically located near cutting tables. Parts could be fed into the machine, which would then take care of not only deburring but also other finishing processes. For example, the 32 Series RB from Timesavers LLC is a machine that uses a wide abrasive belt for removing burrs, a rotary brush to edge-round, and another wide abrasive belt to deliver a specific grain finish on the parts. The parts are fed on a conveyor where it is exposed to all three finishing steps in the 32 Series machine, and the parts are ready for downstream processes, such as bending or welding, or even final delivery in some cases. The machine out-performs several workers who used to do the grinding manually and delivers more consistent results.
But even the use of a flat-part finishing machine required someone to load the parts on the conveyor belt. In today's employment market, skilled labor is valuable, and fab shops that had invested in finishing machines soon realized that they could use this type of a machine operator and material handler elsewhere involved in more important activities.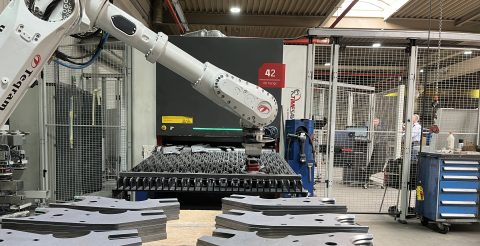 That's led Timesavers to add material handling robots to its machines. Visitors to FABTECH 2022 in Atlanta had the chance to see a collaborative robot feeding the 32 Series machine. Even though somewhat new to the flat-part finishing machine side of the business, material handling automation was a natural evolution, given customer interest and in-house expertise that came with recent company acquisitions, according to Timesavers CEO Micah Coleman.
"DuBois Equipment has been offering automation for quite some time, and it's integral to what they are doing. It wasn't really branded, but it was a necessity for them to offer. So we've refined our abilities there to make that a core competency," Coleman said.
"The same would apply to our Randbright brand, where we have always provided some sort of material handling to go with those machines," he added. "Now you're going to see more of this on the flat metal side."
Timesavers acquired DuBois Equipment, a maker of coating machines and systems for tube and pipe and structural steel, among other coating systems for other materials, in 2015. It acquired the Randbright brand, which is associated with high-precision centerless deburring, finishing, and polishing machines and systems, with its purchase of Midwest Automation in late 2021. Timesavers used FABTECH 2022 to announce the launch of its Timesavers Automation brand.
As demonstrated at FABTECH, Timesavers paired its flat-part finishing machine and a cobot, which handled the material pickup and placement of parts onto the conveyor feeding the machine. Because the cobot is designed to work in close proximity to humans, the typical machine guarding with fences is not required for this type of application.
One doesn't need to be an engineer to program the cobot. It is programmed by physically moving the arm through the paths it needs to take to accomplish the material handling task. For instance, the first step is to establish a "home" position, where the cobot will start, on the programming control. That's followed by dragging the cobot into the pick position and logging that as another point. Then another point is created between the previously two created points as an approach point. A tooling pickup command is then logged into the system as the last step of the program. The cobot is then programmed to pick up that part. After similarly creating a program to drop the part on the conveyor belt, the cobot is ready for material handling.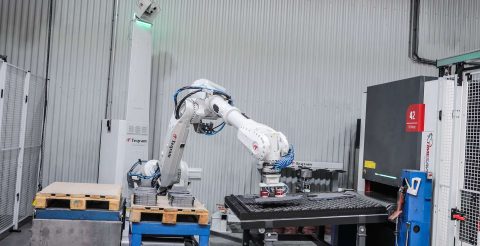 "It's super easy to program on the fly with these cobots," Coleman said. "But obviously, if a company has parts large enough to require an industrial robot, we can sync that up easily with the machine as well."
Coleman said that Timesavers recognizes metal fabricators' interest in technology to help them alleviate the need to hire someone to accomplish uncomplicated tasks, such as material handling, and it's looking to market this type of automation more aggressively in the future.
"Our customers increasingly want one-stop shopping, and we are building up our capabilities internally to do that," Coleman said.