How Keller Blechtechnik uses their Timesavers 42 series WRBW to optimise the quality of their product in the shortest possible time and still save money!
Requirements have increased, especially in the high-tech age in which we live so, customers demand speed, safety and good quality. Therefore, suppliers must also produce rapidly and, of course meet the quality requirements.
You probably know the situation: when you place an order, you are exposed to time pressure as well. However, components must go through so many steps on the supplier's site that delivery times can rarely be met. Obviously, this process also affects your customers and your reputation.
Between quality and safety
Whether for cosmetic or technical reasons, the surface finish of products is becoming increasingly important, along with quality and safety. At the same time, it is undoubtedly counter-productive for components to still require complex trowalising, painting or powder coating after production. Moreover, we definitely want to avoid sharp edges on components and thus the risk of injury. Up to now, parts had to be deburred, rounded and finished separately after laser cutting. The huge amount of time required for such procedures is indisputable. Although it is almost always possible to laser free of burrs, they cannot always be avoided. Burrs may be especially difficult to avoid when lasering thicker sheets. Post-processing is therefore absolutely necessary.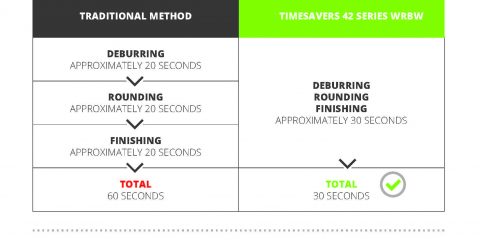 From laser component to finished product with the Timesavers 42 series WRBW, a case study with simple laser components
Keller Blechtechnik has used a simple laser component to analyse the advantages of the Timesavers 42 series WRBW compared to traditional machining. The innovative grinding machine allows them to perform all three processing steps (deburring, rounding and finishing) in a single run.
In comparison, Keller Blechtechnik is able to save 50% of the time required for traditional machining of laser parts. This makes it possible for them to ensure prompt delivery.
Processing products with the Timesavers 42 series WRBW offers huge benefits for Keller Blechtechnik:
High quality and rapid production
Large variation of sheet thicknesses possible
Deburring, rounding and finishing in one processing step
Constant innovation and implementation of new technical options are the cornerstones of Keller Blechtechnik GmbH. It enables them to support you in the development of your products, making it possible for you to constantly improve your components.