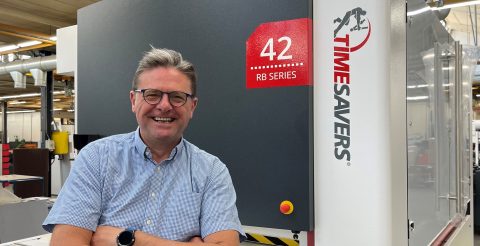 When we walk through the factory and offices of the company and ask colleagues some questions about their work, of course our managing director cannot be missed. Paul was called by a headhunter 26 years ago, who asked him if he wanted to work for a company that had just been taken over. Although he started as finance and human resources director, his position was quickly turned into managing director after four years.
Hartendorp: 'As managing director, I see myself as coach of a football team and captain of a ship. I have to set the course.' Therefore, he makes plans together with the Management Team and also seeks to hold on to them. His work mainly involves conversations with staff and every now and then he provides some feedback. He also communicates with partners outside the organisation, such as Timesavers China and Timesavers America.
'It's a wonderful company with nice people. I also really like the product. You could say Timesavers has everything of a multinational, but on a smaller scale. You know everyone and it's much more organised.' Says Paul. 'The atmosphere is friendly and familiar, just like in a family business. People don't say "You have to contact the service department", but "You have to contact this person".'
Keep finding the positive side of things. There is a positive side to everything, only sometimes you really have to try to see this.
When we ask Paul about an accomplishment that he is proud of, he replies: 'It is nice to see how people enjoy their work at Timesavers. This kind of atmosphere we have here, can only be made by everyone's contribution, truly. And I'm proud of that!' There are many memories he looks back on with delight, including the 5, 10, 15, 20 and 25 year anniversaries, and not to forget a huge party which was organised after a special machine was sold to a major American customer.
In his spare time, he can often be found outdoors. How else could it be if your hobbies include skiing, running and cycling. And who knows, perhaps he can eventually tick some road trips through America and Australia off his bucketlist.
We wrap it up with a slice of optimism, typical of the director: "My piece of advice to others is: keep finding the positive side of things. There is a positive side to everything, only sometimes you really have to try to see this."