Timesavers International is specialised in building machines for deburring, edge rounding, laser oxide removal, heavy slag removal, finishing and precision grinding of sheet metal parts and plates. The company started as Linden Machine Factory in 1939 and merged with Timesavers USA exactly 25 years ago. Therefore, its 25th anniversary is celebrated this year.
25 years of Timesavers International
Play
Developments
With more than 80 years of experience, Timesavers has achieved great success throughout the years. Especially because of the advance in technology they have been able to develop a new leading deburring process, the rotary brush machine. In 2016 they have even won the Red Dot award for the 42 RB series. Timesavers is constantly looking for improvement and works on innovations to increase productivity and ease of use for their customers. They are currently working towards operator-independent machines and helping businesses to automate their business.
Additionally, Timesavers started with online webinars to inform customers and dealers about the latest innovations. Not to mention, one-on-one live demonstrations, during which the customer's parts are processed to discover the desired applications. The online efforts make it easier for customers receive help with their search for a suitable machine solution.
User-friendly
The wide range of machines, from small manual grinders to very high-end machines, are all developed in-house. Each machine is equipped with a PLC and HMI, and to optimize screen control Timesavers has introduced an HMI with pictograms.
Timesavers Academy
Moreover, the company has successfully developed complete machine training programmes for customers, agents and partners. The training teaches all the ins and outs of machine operation, installation, maintenance and tooling. By knowing the machine's capabilities, maximum results can be generated.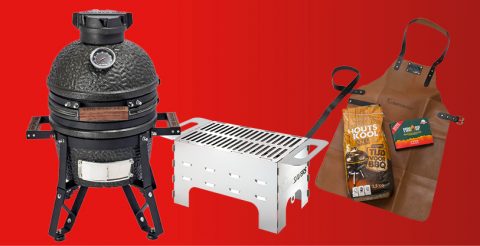 WIN A BBQ!
Timesavers International marks its 25th anniversary this year with 80 years of deburring experience and we would like to celebrate this anniversary with our customers. Therefore, we have organized a contest for those who, among other things, deburr, round, finish or precision grind with a Timesavers machine.
We are giving away the following prizes:
1st prize           A Bastard Kamado barbecue
2nd prize          An operator training and Timesavers BBQ set (worth €500,-)
3rd prize          Timesavers' unique BBQ set with Dutch cheese
At Timesavers, we are of course very curious to see what great results you are achieving with the help of our machine. Which machine have you purchased in the past? And what kind of products are processed with it? Please show some of the works you are proud of!
So what do you need to do to win the contest? Just the following 2 steps:
Take a photo of your Timesavers machine + a product before and after processing.
Post the photos on LinkedIn/Facebook/Instagram and tag Timesavers International and/or fill in the form below and upload your photos to take part in the competition.
By submitting your photos you give permission to Timesavers to use your photos for marketing activities.