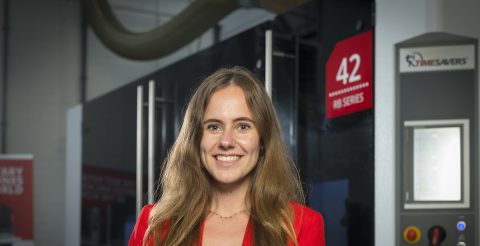 In the beginning of 2021, Julia started her graduation internship at Timesavers. "I did not know the company, but they had a vacancy for marketing. I checked the website and found the international aspect really interesting." Her colleagues' enthusiasm for grinding machines soon sparked hers. "They have so much experience and are all eager to share their knowledge. This helped me to get an understanding of the machines and applications very quickly."
It's a good thing she loves languages, because her work involves a lot of writing and translation. For e-mail, social media, website, brochures and magazines. Yet the work involves more than just office work. She is also involved in the organisation of the trade fairs, customer stories or events such as the Dealer Days. "It is nice to meet people within the metal industry, whether that be customers, dealers or partners. Everyone seems so passionate about their company and products. I think that's great!" That is why company visits, exhibitions and dealer days are definitely on her list of good memories.
Julia about the Timesavers Dealer Days: 'During the pandemic, we did online meetings to inform everyone about the latest developments. Though that went OK, we wanted to meet in real life. Then you can really provide hands-on training, discuss the product range and experiences and hear about each other's ideas." A team was formed and the organisation began. Invitations, hotels, catering and restaurants, activities, presentations, partners, location and decoration, transport… Everything had been thought of. "It was a success and we got lovely and positive feedback."
When Julia is not at work, she likes to spend her time with family and friends. Going for a walk, having good conversations and sunny days are things she enjoys. "I can also appreciate a good book", she says.
As always, we end by asking the people at Timesavers for advice… "Ever heard people say that work should not feel like work?" Julia: "I thought: How is that possible? Work is work. But honestly, I can say that work does not feel like work now. It is important to love what you do. In a team that loves what they do. That is a source of motivation you need to keep going."