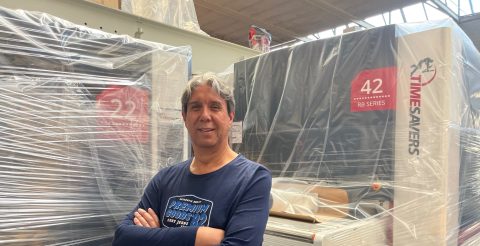 Jeffrey has been working for 37 years here at Timesavers – in the past called Linden Machines. Arranging transportation for the machines and spare parts is the biggest part of the job. The products from Timesavers are being shipped to locations all over the world, which makes it a challenge. You need to take into account the import rules and these differ per country. Jeffrey needs to deal with unforeseen things as well, such as weather circumstances that could hinder the delivery.
Muller enjoys his job and has been around long enough to know that there are never two days the same. And all those years, the pleasant atmosphere has always been there. Jeffrey: "This makes it nice to work here. I am very happy with the fact that I hardly get any complaints ever when the machines are delivered to our customers. Maybe once or twice a year I receive a complaint that something has been damaged."
Music is a great passion of Jeffrey. He used to make radio programmes and often managed the sound for various bands and artists. The genres could vary from classical music to pop.
In his free time, Jeffrey is also a model photographer. He even occasionally takes photos for Timesavers, such as last year's 25th anniversary. "It would be a dream come true to get a digital Hasselblad camera sometime (he already has the analogue version), but I would only buy it if I would win the lottery."