Why is dust and spark extraction so important?
When grinding, deburring or polishing, dust, sparks and gases arise during the process. Maintaining a dust free working environment is important to protect the health of employees and moreover increases the service life of machinery. Hot flying sparks can, if not cooled down, lead to flammable situations. Dust of certain materials can be flammable or even explosive. In the right mixture with oxygen and an effective ignition source, these substances can cause serious fires and violent explosions. This may cause injuries, damage parts of buildings and systems and ignite other flammable substances.
How do extraction units work?
During the grinding, deburring and/or polishing of steel, stainless-steel and aluminium the dust is collected at various stages in the process. The dust that arises during this process is extracted by one or more extraction mouths in the machine. Per grinding head this mouth ensures optimal dust extraction during this specific part of the grinding process. The dust is drawn by the extraction mouth through a pipe and enters the extraction unit.
First stage is a Vortex chamber that binds the materials in water and cools hot sparks.
Second stage is a stainless steel mesh filter that filters the larges substances. This filter will get dirty and therefore needs to be cleaned occasionally. The coolant can be discharged by container, ball valve or even automatically.
Third and last stage is an optional H14 HEPA filter, this filter will capture the carcinogenic substances.
When even these small last particles are filtered the air is purified can be safe returned into the hall or outside.
Impression of the dust extractors from Absaugwerk
Play
Partnership with Absaugwerk
Timesavers International has a partnership with Absaugwerk for all extraction units. As Absaugwerk stands for high-quality extraction solutions for the protection of people, machines and the environment in the manufacturing industries. Their systems make workplaces safer and cleaner. Hence, they not only actively contribute to the protection of employees, but also increase the service lives of machine parks and significantly reduce environmental impacts. The product portfolio ranges from industrial extractor, fume filter, oil mist separator and wet separator right up to complete production hall ventilation systems. Numerous capturing elements such as extraction arms, extraction tables, hoods and many more products complement our product range. They especially match the flexible components of all systems to the requirements of customers and so deliver optimum solutions for virtually every process and every material. Due to many years of experience in extraction technology a strong foundation has been created of know-how, process and application knowledge. More information can be found on the website of Absaugwerk.
Some advantages of the Absaugwerk extraction units
Highest suction power in its class
Quietest in its class (min. 2 dB.)
Low energy-water consumption
Suitable for pharmaceutical and food industries
Large cleaning openings
ATEX compliant design
Low operating costs
Customer's experience with the dust extraction
Play
Unit components
The Absaugwerk extractors are available in various versions so that there is an ideal match for every Timesavers machine. The smallest version has an engine power of 1.1 kW and the largest version has 22 kW of power.
FILTER
Specially developed stainless-steel metal mes
Multi-layer structure for the highest degree of separation
Robust quality filters
Long filter service lifetime
DISCHARGE
Containers in different sizes
Pinch valve
Ball valve
Gate valve manual / electric /pneumatic
Continuous discharge systems
Special discharge
CAPTURING
Extraction hood
Machine connection
Special capturing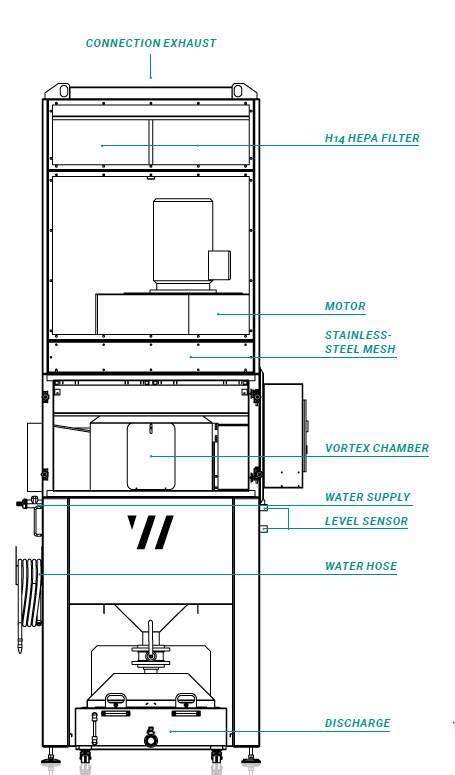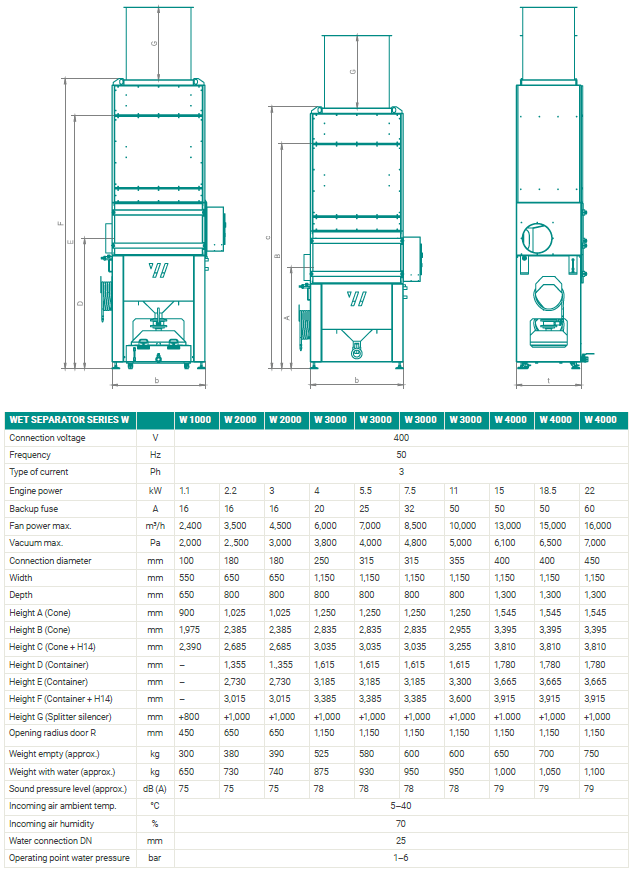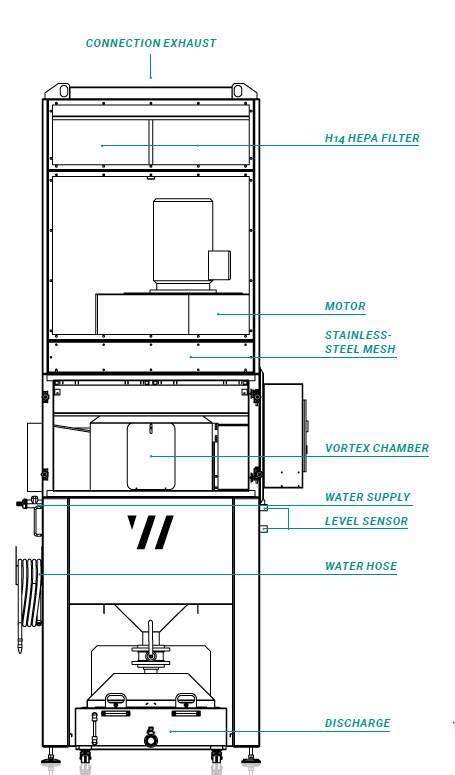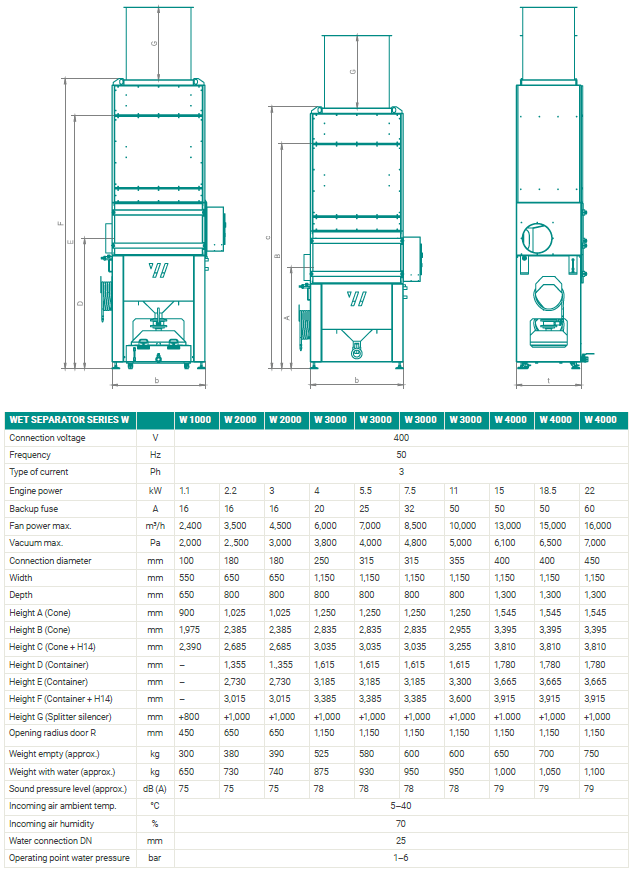 Technical drawings
Technical drawings