Ever paid attention to the walls of an elevator? These walls are made of stainless steel sheets and have a smooth surface, due to the applied finish. Finishing is part of the manufacturing process and is improving the appearance of sheet metal and with that often its durability. Note that this information is regarding the finishing of metal sheets, plates and coils.
Reasons to apply a finish
The surface finishing of sheet metal, whether that is stainless steel, aluminium or steel, is usually done from an aesthetic point of view and durability, as already mentioned before. However, it also makes the machined parts wear and corrosion resistant.
Another reason for finishing is the reduction of surface roughness, which is one of the characteristics of surface texture, also known as the value Ra. Surface roughness measures the irregularities on sheet metal and the machined surface finish is measured in micro inches (µin).
The smaller the number of micro inches, the smoother the surface. A smooth and non-absorbent surface can be cleaned more easily and thus is it beneficial in industries where hygiene is top priority. For instance the food and pharmaceutical industries.
Types of finishes
It is important to choose the right finish for your machined parts. There are several types of finishes that can be achieved by grinding, brushing, smoothing and polishing the surface with the use of brushes or belts. The most common ones are the following:
No. 0; the starting finish of hot rolled, tempered sheets.
No. 1; this is a dull and slightly rough surface, which is the starting finish on sheets of a hot rolled, tempered, etched and passivated process.
No. 2D; this dull finish is superior to a No. 1 finish and is the starting finish on sheets of a cold rolled, tempered, etched and passivated process.
No. 2B; this is a glossy finish on sheets, due to a cold rolled, polished, tempered, etched and passivated process.
No. 2BA; this is a mirror-like finish with some imperfections. BA stands for Bright Annealed, which is made in a controlled atmosphere.
No. 3 or No. 4; these finishes can be obtained with abrasive belts ranging from grit 120 or 180 to even 240 or 320. No. 3 and No. 4 are often used for escalators, elevators and architectural buildings for example.
No. 5; a finish applied with non-woven abrasive.
No. 6 or No. 7; a finish of which the surface is processed with grinding compounds. With no. 7 there are additional cotton mops, which are polish compounds.
No. 8; a true mirror finish, produced on sheets with the use of discs. This process uses a mixture of abrasive compound and water to do the polishing.
Non-directional finish; products with this type of finish can be put in every possible direction.
Hairline finish; this finish has a long, continuous straight lines parallel to the length of the sheet metal.
DUPLO finish; which is a finish with combination of first abrasive belt and then Scotch-Brite brush, and a great finish for the food processing industry.
Microlon finish; applied with Scotch-Brite brushes or even Scotch-Brite belts.
Powder coating finish; this finish makes parts that are made during CNC machining processes resistant to corrosion and aesthetically pleasing. Although it is not recommended for smaller components and internal surfaces, it is suitable for military applications or industrial equipment.
Sandblasting finish; which removes the top-layer of a part by highly pressurized sand, thus creating a uniform and smoother surface texture.
How mechanical finishing is done
There are several types of machines that make a finish:
The abrasive belt machine
The key elements in the finishing process of these machine are the grit of the abrasive belts, its speed and the speed of transportation. The length of the scratch for No. 3 or No. 4 finishes will be depending on the speed of the belt and the transportation. The finish can be made with one or two abrasive heads on cold rolled material, while for hot rolled material it is needed to add multiple passes in order to remove the hard skin and get the final finish.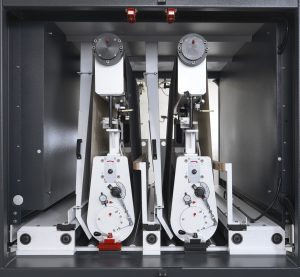 The brush finishing machine
The finishing process of this machine uses brushes that make an even brush wear and homogeneous finish, due to fast oscillation. The length of the scratch for a No. 5 finish is depending on the speed of the brushes as well as the transportation. Because the brushes hardly remove any material, it is only recommended to apply such finish on 2B and BA material.
The DUPLO finish is the combination of a grinding belt, followed by the non-woven material brush. This brush 'deburrs' the sharp grinding lines and makes the surface easier to clean.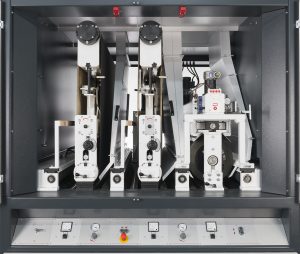 The hairline finishing machine
Very slow moving abrasive belts are used to produce the hairline finish on top of the No. 4 finish. It is important that the belt does not scratch deep into the material.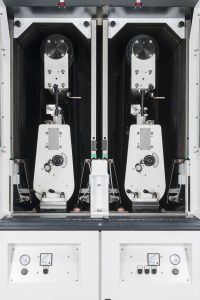 Timesavers' finishing machines
Timesavers opts for high quality and therefore offers heavy duty and cost effective machines such as  the 62, 71 and 72 series, that are especially designed for machining surface finish for hot and cold rolled sheets. It is possible to choose for a dry or wet finishing machine to finish coil-to-coil and sheet-to-sheet. Depending on the dry or wet grinding, you need to have a dust extraction or coolant flow.
The whole process can be controlled with the HMI panel and specific working settings can be saved in the program. Moreover, Timesavers values the ease of use, thus the abrasive belts of our machines can easily be changed for another grit, resulting in another finish.
For more detailed information about the specifications of our finishing machines, we recommend you to visit the following pages:
62 Series – Full solution for finishing stainless steel sheets
71 Series – Finishing of cold and hot rolled sheets (wet)
72 Series – Finishing of cold and hot rolled sheets (dry)
If you have any questions regarding a sheet metal finishing machines , feel free to contact us. We are here to help you as best as we can.