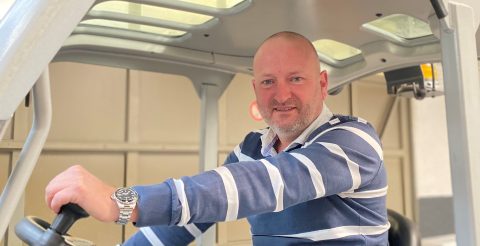 Meet Arjo Zandee, our manager Sales Office.
Did you know Arjo has been working here over 20 years? He began his journey here at Timesavers as an intern in the accounting department. Later on, he moved to the service department. This was for a brief period of time, because Arjo made his way back to accounting. Although he learned a lot at this department, it didn't quite suit him. Fortunately, Arjo was asked to join the Sales department… and that is where he really feels at home.
Once a machine is sold, Arjo takes care of the necessary arrangements up to delivery: making internal documents, answering questions related to planning and technical files and ensuring that the machine is properly packed, so the machine arrives undamaged at its destination.
Curious about his thoughts on Timesavers? 'Our workplace has a warm and inviting atmosphere. Anytime, you can swing by a colleagues' office for a quick chat.' Zandee says. 'Having a business economics degree and being able to do all kinds of work, both economic and technical, is what I really enjoy. And helping to load a machine is no issue, as I also drive a forklift truck.'
One of the good moments of the weekdays is the 'VrijMiBo'. This is a Dutch abbreviation for having a drink with colleagues on Friday after work. 'It is nice to have a beer and start the weekend, knowing that everything has been arranged for next week.'
In his spare time Arjo doesn't sit still. He enjoys playing sports. From soccer matches to playing tennis for fun.
His advice on mindset fits the Timesavers mentality perfectly… Arjo: 'Always stay positive. Even when things don't go as planned.' He believes that persistence and a positive attitude are essential to success. Maybe even more important, it can also have a positive impact on those around you. Positivity is contagious. And by spreading it, you can help others overcome their own challenges.