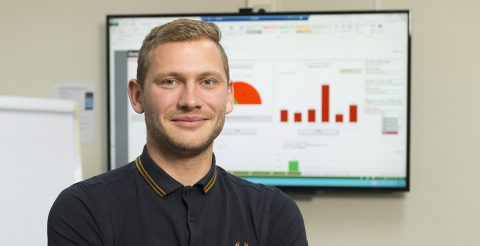 After his graduation internship, Siegert wanted to stay at Timesavers. He is now working here for six years already. His job mainly involves working with figures; he reports the monthly figures of Timesavers Goes and the location in China. For this, he made their reporting structure the same as the one being used here in the Netherlands. He also manages efficiencies, calculates the cost price of the machines and checks and analyses the stock of the warehouse.
When being asked what he likes about the company, Siegert answers: "You have the opportunity to do your own research here. And, it is the atmosphere which appealed to me. There is no dull environment."
In his free time Siegert likes to go to the beach; especially when there is a strong wind, since his hobby is kite surfing. He also enjoys hanging out with friends and going to a good party. He would like to visit the Timesavers locations in China and the United States one day, to get an impression of how they operate there.
Siegert's advice for others is: "Turn your weaknesses into positive qualities. For example, if you are an energetic person you may be able to quickly finish something when necessary and rapidly come up with solutions to problems."