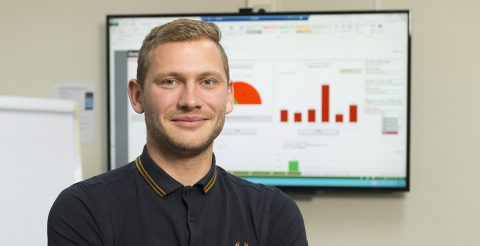 Siegert is working at Timesavers for six years already. The nice atmosphere and the fact that there is no dull environment made him want to stay here after completing his graduation internship.
His job mainly involves working with figures, as he creates the monthly financial reports of Timesavers Goes and China. To optimise the process, he made their reporting structure the same as the one being used here in the Netherlands. Other tasks are looking for improvements within the finance department, calculating the cost price of the machines and doing some inventory management.
During the days off, Siegert likes to hang out with friends, go to a party or -when there is a strong wind- spend a day at the beach. Not a surprise, since his hobby is kite surfing. In the future he would love to visit the Timesavers establishments in China and the United States, to get an impression of how they operate there.
Siegert's advice for others is: "Turn your weaknesses into strengths. For example, if you are an energetic person you may be able to quickly complete a task when necessary and rapidly come up with solutions to problems."