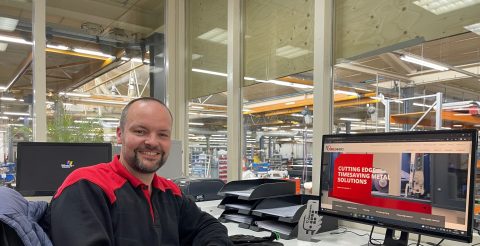 Jack has been working at Timesavers as Quality Manager since January 2022. The Quality Department is responsible for the integral quality assurance within the process from the (internal) manufacture and delivery of the individual components, the construction of the machines, up to the final quality check that each machine undergoes before it is released for shipment to our customer.
The earlier quality deviations can be noticed, the smaller their negative effect on the entire process will be. Ensuring quality by means of interim quality checks will ultimately lead to less waste and better efficiency.
Jack: "The diversity of my work, the cooperation with colleagues and suppliers, and the fact that I am practically involved, is what I really enjoy! The pleasant cooperation with people both internally and externally is something I am really proud of."
"What I like most about my job is that as a quality department we actually contribute to customer satisfaction, and by working and communicating efficiently together we can achieve an optimal process. Everyone is an essential link in the chain, whether you make the smallest invisible part of a machine or you assemble a machine. If one link is missing, the rest of the chain will not function either."
In his spare time, Jack enjoys spending time with his family, and touring on his vintage 1972 Puch moped. The vintage helmet on his desk already shows this.
The tip Jack would like to give to others is that, regardless of your position or department within the company, we all have the same ultimate goal; to be able to supply our customers with a machine of high quality. That is what we stand for at Timesavers!